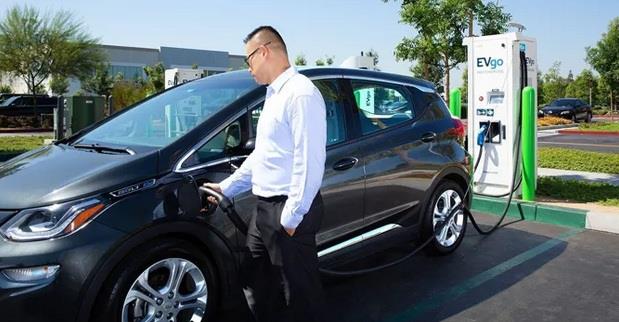 On January 9, general motors (GM) announced a partnership with EVgo, ChargePoint and Greenlots, three of the largest network of charging stations in the United States, to improve its electric vehicle charging solutions for customers.
Gm is partnering with three of the largest charging networks in the United States to provide ev customers with seamless charging solutions
Companies such as Tesla are building their own charging networks for their own branded vehicles, while several other carmakers rely on third-party networks to make charging more complicated.Gm plans to roll out a simpler solution that aggregating dynamic data from various ev charging networks to give owners of all-electric vehicles such as the chevy Bolt a seamless charging experience.
Last year, gm's Chevrolet Bolt all-electric, Chevrolet Volt Volt Volt Volt and Cadillac CT6 plug-in hybrid accounted for about a quarter of the U.S. market segment for all-electric and plug-in hybrids.This is just the beginning. Gm plans to launch at least 20 all-electric models globally by 2023.
The current federal tax law in the United States offers tax incentives for electric vehicles to attract more consumers to buy electric vehicles."Gm appreciates that the government retained this benefit in the context of tax reform.We hope that the government will further increase tax incentives for electric vehicles to benefit consumers in the long run.In addition, we should actively remove many obstacles in the process of promoting the widespread use of electric vehicles."We hope that the energy industry and other related industries will join hands with us to improve charging facilities so that consumers can drive their electric cars wherever and whenever they want.
Doug Parks, gm's vice President of autonomous and electric vehicle programs, said: "gm believes the future will be purely electric, and this is an important step toward a better charging experience for owners.By partnering with these three companies, we hope to reduce barriers and create a stronger electric vehicle infrastructure for the pure electric future."It's also an important step toward fulfilling gm's vision of zero emissions.
Gm wants to be able to share charging network information directly with owners of Chevrolet Bolt electric cars through its mobile app."The new information provided by the charging network will include real-time data on the status of charging stations to inform owners whether the charging stations are functioning properly, are available, and are compatible with Bolt electric vehicles, thus providing owners with one-stop, full-service and charging data before and on the road," the company said.
Gm also said that as part of the agreement, it wanted to offer the ability to charge the car using the myChevrolet app without using the charging network's membership card system, but did not specify whether that would be possible.The new partnership will be finalized by the first quarter of 2019, the company said.