Screw Terminal Ceramic Disc Capacitor | Doorknob HV capacitor | CCDH
Feature
-Excellent temperature characteristics
-Low dissipation
-High insulation resistance
-High breakdown strength
-Fully symmetric full copper electrode
-Epoxy coating
-Screw terminal mounting
Application
-Smart grid
-High voltage power supplies
-CO2 lasers
-X-ray equipment
-Welding equipment
Range Of Capacity 10 pF to 10,000pF
Dimensional Drawing
PART NUMBER EXAMPLE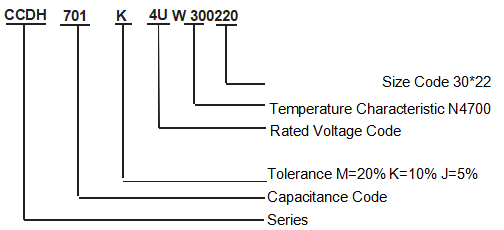 SPECIFICATIONS
 

Type

Rated Voltage

kVdc

Test Voltage

kVdc

Corona Inception Voltage (kVrms)

(<10pc)

Capaci tance

(pF)

Dimensions millimeters

(mm)

Terminal Type
D ± 1
L ±1
H ± 2
d
CCDH701K4UW300220
700
30
12
CCDH102K4UW300220
1000
30
12
CCDH122K4UW400220
1200
40
22
17
14.5
CCDH152K4UW400220
1500
40
14.5
CCDH472K4UW550220
4700
55
14.5
CCDH781K4UW300250
780
30
12
CCDH102K4UW400250
1000
40
12
CCDH112K4UW400250
1100
40
14.5
CCDH172K4UW450250
1700
45
14.5
CCDH182K4UW450250
 

30

 

45

 

12

1800
45
25
20
14.5
 

ISO M5

CCDH202K4UW500250
2000
50
14.5
CCDH252K4UW550250
2500
55
14.5
CCDH272K4UW550250
2700
55
14.5
CCDH302K4UW550250
3000
55
14.5
CCDH332K4UW550250
3300
55
14.5
CCDH362K4UW600250
3600
60
14.5
CCDH103K4UW900250
10000
90
14.5
CCDH591K4UW330280
590
30
12
CCDH941K4UW400280
940
40
28
23
14.5
CCDH172K4UW500280
1700
50
14.5
CCDH401K4GW300350
400
30
35
30
12
CCDH202K4GW600350
2000
60
14.5
CCDH441K4GW300300
440
30
12
CCDH571K4GW300300
570
30
12
CCDH751K4GW400300
750
40
14.5
CCDH102K4GW500300
1000
50
14.5
CCDH122K4GW450300
 

40

 

60

 

16

1200
45
30
25
14.5
 

ISO M5

CCDH142K4GW500300
1400
50
14.5
CCDH172K4GW550300
1700
55
14.5
CCDH202K4GW550300
2000
55
14.5
CCDH242K4GW600300
2400
60
14.5
CCDH272K4GW600300
2700
60
14.5
CCDH332K4GW700300
3300
70
14.5
 

Type

Rated Voltage

kVdc

Test Voltage

kVdc

Corona Inception Voltage (kVrms)

(<10pc)

Capaci tance

(pF)

Dimensions millimeters

(mm)

Terminal Type
D ± 1
L ±1
H ± 2
d
CCDH281K4HW300370
280
30
37
32
12
CCDH341K4HW300330
340
30
12
CCDH561K4HW400330
560
40
14.5
CCDH851K4HW400330
50
75
20
850
40
33
28
14.5
ISO M5
CCDH102K4HW450330
1000
45
14.5
CCDH212K4HW600330
2100
60
14.5
CCDH221K4HW600330
2200
60
33
28
14.5
ISO M5
CCDH332K4HW700330
50
75
20
3000
70
14.5
CCDH602K4HW800800
6000
80
80
75
14.5
CCDH501K4IW400400
500
40
14.5
CCDH701K4IW450400
700
45
14.5
CCDH851K4IW500400
60
90
24
850
50
40
35
14.5
ISOM5
CCDH102K4IW450400
1000
45
14.5
CCDH122K4IW550400
1200
55
14.5
CCDH202K4LW600400
70
100
28
2000
60
40
35
14.5
ISOM5
CCDH751K5AW600460
100
150
40
750
60
46
41
14.5
ISO M5
CCDH102K5AW600460
1000
60
14.5
CCDH102K5BW600530
120
180
48
1000
60
53
48
14.5
ISO M5
CCDH251K5RW300530
150
220
60
250
30
53
48
12
ISO M5
CCDH801K5RW600530
800
60
14.5
Marking
①Manufacturer Marking
②Temperature Characteristic
③Rated Capacitance
④Tolerance of Capacitance
⑤Rated Voltage
Specification and Test Method
Item
Specifications
Testing Method

Appear ance

1 Appearance and

Dimensions

No marked defect
Shall be visually examined or Venire calipers.
2 Marking
To be easily legible
Shall be visually examined.
3 Material
Capacitor elements made from N4700 ceramic in a molded epoxy case. Screw

terminals: Terminals silver-plated.

4 Thread
ISO M5
Check with ISO M5 bolts

Electr- ical perfor- mance

5 Capacitance
Within the specified

tolerance

The capacitance shall be measured at 20°C with 1

±0.2kHz and AC5V(r.m.s) max..

6 Dissipation Factor (D.F)
0.2%Max.
The capacitance shall be measured at 20°C with 1

±0.2kHz and AC5V(r.m.s) max.

7 Insulation

Resistance (I.R)

200,000MΩ.min.

The insulation resistance shall be measured with DC 500V within 60±2 s. of charging.
8 Power frequency withstand voltage

Between terminal

150% of rated voltage(In oil),1min.

9 Temperature Characteristics

-4700±1000ppm/°C

The capacitance should be measured at each step as below table.
Step
1
2
3
4
5
20±2°C
-40±2°C
20±2°C
70±2°C
20±2°C
10 Corona limit
<10pC
at 40% rated AC voltage(In oil).
Item
Specifications
Testing Method

Climat ic

Tests

11 Humidity (under Steady State)
Capacitance
≤10%

Set the capacitor for 100h at 40±2°C in 90 to 95% humidity.

D.F
<1%
I.R

>109Ω

12 Temperature cycle test

The Capacitor should be normal, the requirement in item 5 to10 of the table

shall be met.

Pass through the atmosphere -40℃,1h→RT,0.5h→

+80℃,1h;10 cycles.

13 Life Test

Capacitance

change

±5%
Apply a DC voltage of 125% of the rated voltage for 100+24/-0 h in oil at 85±2℃.Post-treatment : capacitor shall be stored for 24±2h at room

condition. (charge/discharge current:50mA max.)

D.F
1.0%max.
I.R
1,000M

Mechan ical Perfor mance Test

14 Strength of Terminal

Torque strength

Capacit or shall not be

broken.

When mounting the capacitors on equipment, be sure to mount them within the torque strength values shown

in the table below.

size
torque (N • m)
M5
1.5
pull
No unusual
Fix the body of capacitor apply a tensile weight gradually to each terminal in the radial direction

of capacitor up to table below.

size
pull (N)
M5
5.0
Announcements
(1)Handing and storage
Please avoid handing and storage in high temperature,humidity and rain. Collision avoidance.
Do not expose to H2SO4,HCL,HNO3 a nd ot her to xic ga ses.
(2)Operating Collision avoidance.
Please do not get sweat and other electrolytes. Please do not operate with bare hands. Do not weld on the screw terminals.
Do not rework the terminals.
(3)Using
Avoid as much as possible the transfer of radioactive heat from mechanical piping, etc., to the capacitor.
INTRODUCTION
– Excellent temperature characteristics
– Low dissipation
– High insulation resistance
– High breakdown strength
– Fully symmetric full copper electrode
– Epoxy coating
– Screw terminal mounting
Application
– Smart grid
– High voltage power supplies
– CO2 lasers
– X-ray equipment
– Welding equipment